Weekday Bread
May 2, 2016
This is one of my favorite bread recipes ever. Partially because it's so easy and the bread is delicious every single time. And there is nothing better than homemade bread. Well, maybe the smell of homemade bread as it's baking.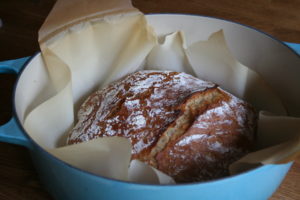 This is a great weekday bread recipe because it has very minimal involvement. You can mix it up in the morning, go to work while it rises, and bake it later. So simple I can make it during the week.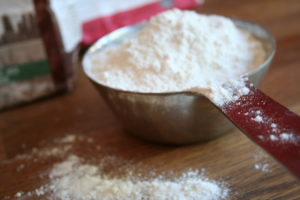 I like to customize this recipe by using a mix of flours. Sure, using just all purpose flour results results in the most classic loaf, but I don't mind a more rustic bread. For this particular batch I used a mix of all-purpose, rye, and whole wheat (approx. 1 c of each).
This is how easy this recipe is: mix flour(s), yeast, salt, and water in a large bowl. Cover and allow to rise for 15-20 hours.
After the first rise, transfer to a cutting board or cookie sheet lined with parchment paper. I used to add the dough to a floured surface, but I found it to be very sticky and stick to the surface no matter how much flour I used. So, instead I cover the surface with parchment paper, which I can just transfer to my baking dish later on. After transferring the dough, sprinkle with flour or cornmeal and cover with a towel to rise for 1-2 hours. It's ok if it looks messy. That's the rustic look 🙂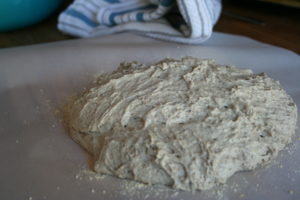 About 30 min before you are ready to bake, preheat the oven to 450 and put a ceramic baking dish in the oven to heat up.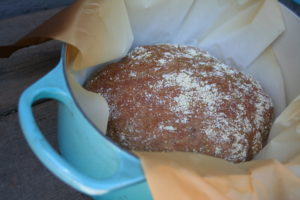 Transfer the whole parchment paper to the baking dish, cover, and bake for 30 min. After 30 min, remove the cover and bake for an additional 10-20 min until lightly browned on top.
Allow to cool before slicing.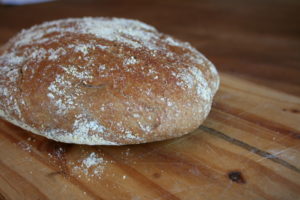 Inspired and adapted from Mark Bittman's No-Knead Bread recipe.
Ingredients:
3 c flour
1/4 tsp yeast
1 tsp salt
11/2c + 1/8c water
Mix all ingredients in a large bowl and stir to combine. Cover and allow to rise for 15-20 hours.
Shape into a loose ball and place on a parchment paper covered surface. Sprinkle with flour and cover with a towel and  let rise again for 1-2 hours. About 30 min before baking, pre-heat oven to 450 and add ceramic baking dish to oven.
To bake, remove baking dish from oven and carefully lift the parchment paper and place the whole thing in the baking dish. Bake 30 min covered and then remove cover and bake 10-20 longer until the outside is lightly browned.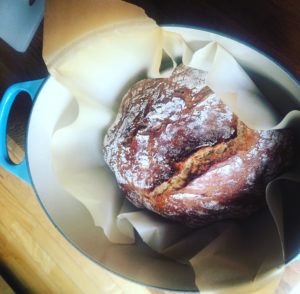 2 responses to "Weekday Bread"