About
Stephanie Howe Violett, PhD.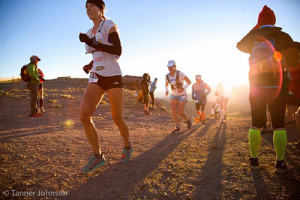 Running has always been a big part of my life, whether I liked it or not. When I was young I didn't love to run. In fact, I hated running. I was a good athlete, but didn't appreciate the gift I had.
As I grew up, I realized that I was built to run. I finally accepted that I was an endurance athlete and not a star softball player. I joined the cross country team my freshman year and found a family in the cross county kids. They instantly accepted me, a skinny 14 year old with braces… who loved to run.
The Gazelle was born.
In college, I raced both Nordic skiing and cross country at Northern Michigan university, where I was a two-time All-American. I was still working on my relationship with running; I liked it and had some success racing, but wanted to pursue Nordic skiing. The thing is, I'm not a skier. I'm a gazelle, and that means I run.
It wasn't until after college that I really fell in love with running on the trails. I studied Exercise Physiology at Montana State University, where I earned my Master's degree. Bozeman is a place that shaped me. I fell in love with the rugged, primitive beauty. Montana will forever be a part of my roots…
After a few years, I moved further west, to Oregon, to pursue a doctoral program. I first began my life in Eugene, studying Human Physiology at the University of Oregon. After a year in the valley, I longed for the mountains and trails, and decided to move to Bend, where I reside today.
I began teaching as an adjunct professor at the community college, and after a year or so decided to finish what I started: earn my PhD. So once again, I packed up and moved to Corvallis, Oregon to pursue a doctoral program in Nutrition & Exercise Science. Simultaneously, I began running at a higher level, got married, and started my own coaching & nutrition business. I never do things the easy way 🙂
Fast-forward a couple years, and I'm now Dr. Stephanie Howe Violett, still living in Bend, working as a coach and sports nutritionist, and running in the mountains. My life is rich.
Career Highlights:
Western States 100, 2014 Champion
Western States 100, 2015 3rd Place
Lake Sonoma 50mi, 2015 Champion, *Course Record holder
Ultra Trail de Mont Blanc, 2015, 8th
Way Too Cool 50k, 2015, Runner-up
Speedgoat 50k, 2013 Champion, *Course Record (subsequent years are run on a different course)
Top 3 ranking from Ultra Runner Magazine, International Trail Running Association (ITRA), and Ultra Runner Rankings
Professional Career Highlights:
PhD. Nutrition & Exercise Science, 2015, Oregon State University
Active member of American College Sports Medicine, Academy of Nutrition and Dietetics, American Society for Nutrition
Current publications in Exercise & Sports Nutrition:

Howe, S. M., Hand, T. M., Larson-Meyer, D. E., Austin, K.J. Alexander, B.M., Manore, M.M. (2016) No effect of exercise intensity on appetite in highly-trained endurance females. In press. Nutrients.
Howe, S. M. (2015). Exercise and appetite: the influence of exercise intensity on appetite in endurance trained women. (Doctoral Dissertation). Retrieved from Oregon State University database: http://hdl.handle.net/1957/57934
Howe, S. M., Hand, T. M., Manore, M.M. Exercise-Trained Men and Women: Role of Exercise and Diet on Appetite and Energy Intake. Nutrients, 2014, 6(11), 4935-4960.
What I do:
I have a passion for nourishing the body through physical movement and real food. I think eating and physical activity should be a beautiful, enjoyable part of every day life.
The combination of personal experience as an athlete and my scientific expertise in Exercise Physiology & Nutrition allows me to approach coaching and nutrition from a unique perspective.